We Provide Eyecare with Compassion at Our Houston, TX, Location
Stop by our practice today if you are looking for top-notch eye care from a qualified optometrist. Any eye doctor at our practice will do more than just provide you with quality care. At New Sights Eyecare in Houston, TX, we are committed to providing eyecare with compassion.
This means that we treat our patients with the utmost kindness and respect whenever we interact with them. That is one of the reasons that our practice is the premier destination for eye exams, contact lenses, and more in the Houston, TX, area. Keep reading to learn more about our practice.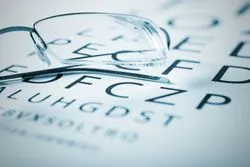 Our Optometrist Offers a Wide Range of Services
As a patient, you want to be sure that you visit an eye doctor who can provide you with the care that you need. That is one of our primary concerns. If you stop by our practice, you will receive excellent care from a qualified optometrist. We provide routine as well as more extensive eyecare, depending on your needs.
Eye exams are one of the routine eyecare services that we provide at our practice. Eye exams help keep your eyes healthy and allow us to identify any issues with your eyes as early as possible. As you probably know, identifying an eye issue early is a critical step in treating it effectively. Some eye issues can become quite serious if they are not treated promptly.
We can also prescribe you contact lenses at our practice. Contact lenses can be a viable alternative to glasses, if you prefer to use them instead. Additionally, our eye doctor might prescribe you contact lenses in order to address certain vision problems. Farsightedness and nearsightedness are two of the most common vision problems we see in our patients. We will do an eye exam to determine if you could benefit from contact lenses and help you find a pair of lenses that fit your eyes well.
Dr. Alam Is an Experienced Optometrist Near You
Dr. Alam has helped patients in Houston, TX, by providing high-quality eyecare since 2003. Dr. Alam has run her own private practice, New Sights Eyecare, since April 2018. You can rest assured that Dr. Alam has the experience to give you the exceptional eyecare that you deserve.
Visit New Sights Eyecare Today
Come to our practice today if you require any type of eye care. New Sights Eyecare in Houston, TX, is the top destination for eye exams, contact lenses, and more in the local area. Visit us today and enjoy the benefits of the eye care services that we provide.